Check out the Brochure for pricing and additional services!
---
Download our Before Care and After Care Packet
---
Download our Referral Form for 2019!
---
Give us a call to schedule a Personal Tour! 732-446-7035
---
Join us on January 27th, 2019 from 11 AM to 2 PM for winter crafts, refreshments, and more! Tour our camp grounds and meet our owners!!
---
Happy Holidays to all Ivy League Day Camp Families and Friends!
Click here for our Winter Newsletter!
---
Ivy League Day Camp Winter Break Camp will be held on December 26th, 27th, & 28th from 9:30-3:00 PM!
All Pre-school to 6th Graders are welcome to participate!
Click here for flyer and application to enroll!
---
Click here to view our Summer 2018 Yearbook Video!
---
Classes will be held on Sundays beginning on December 2nd through January 27th from 9:00 am to 9:45 am.
Please click here for more information!
---
Ivy League will be at Monroe Sports Center off Route 33 on November 11th from 12 pm – 4 pm!
Come stop by to ask questions and inquire about camp for the summer 2019!
---
Ivy League Day Camp is looking for responsible, reliable, caring, outgoing individuals to become a part of our Ivy League Family.
We are hiring substitutes for our Before and After Care Program during the 2018-2019 school year.
We have started the interview process for our Day Camp for Summer 2019.
Please fill out an application or call us at 732-446-7035 if interested in applying!
---
Click Here for Mini Camp Information Flyer!
---
Ivy League Fall Fest is right around the corner!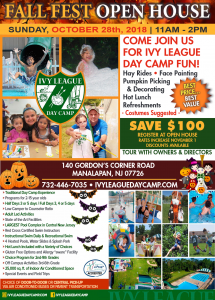 Join us for a fun-filled day at Ivy League!
---