Classes are held on Sundays 9 AM – 9:45 AM on the following dates:
April 28th, May 5th, May 12th, May 19th, June 2nd, June 9th
This program is for children ages 2 1/2 – 4 years old.
All classes are held at Ivy League Day Camp Tee Ball and Soccer Outdoor Fields or Indoor Field House.
$95 per player (**$5 Ivy League Day Camp/School Discount**)
**Each child will receive a completion certificate**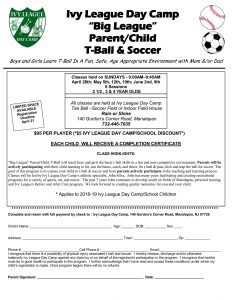 ---
Bring your family and friends to see all of the BIG LEAGUE FUN we have at Ivy League all summer long!
Spend a day playing sports, checking out go-carts and mini golf, climbing the rock wall, and jumping on the Euro Bungee!
Take a tour with our leadership team and meet our awesome Ivy League staff!
Most Important, HAVE BIG LEAGUE FUN!!
---
Come join us on Saturday, April 27th from 11 AM – 2 PM for our "Spring into Camp" Open House!
Take a tour of our facility, meet our warm, wonderful leadership team, and enjoy a day full of activities!
---
ALL PRE-SCHOOL THROUGH 1ST GRADERS WILL HAVE…
AIR-CONDITIONED BUNKS!
Please keep a look out to find out what else is new and exciting happening this summer!
---
Ivy League is now offering a Flex Schedule Program!
Click here for more information and give us a call at
732-446-7035 if you are interested in enrolling for this summer!
---
Click Here to See Open Positions!
Please give us a call if you are interested at 732-446-7035
or e-mail your resume to info@ivyleaguedaycamp.com
---
Click here to view our Summer 2018 Yearbook Video!
---
Check out the Brochure for pricing and additional services!
---
Download our 2019-20 MERS Ivy League Before-After School Packet
Email us to sign up for 2019-2020 at info@ivyleaguedaycamp.com
---
Download our Referral Form for 2019!
---
Give us a call to schedule a Personal Tour! 732-446-7035
---
Monday to Friday April 22nd-April 26th
All Children Pre-K to 6th Grade
Full Day or Mini Day
Register by April 10th for an additional 10% off
DEADLINE APRIL 15TH!!!!
Click here for more information!
---
We are SO EXCITED to announce that our 2019 CAMP PLAY WILL BE…
---
Please join us on Sunday, March 17th from 11 am to 2 pm for our "Lucky to Have Fun at Ivy League Day Camp" OPEN HOUSE!
We have surprises in store for you, cool crafts to celebrate St. Patrick's Day, and tours with our wonderful Owners/Directors!
If you come to one of our open houses, you will receive $100 off tuition for the summer of 2019!
---
Join us for our February Open House!
On Saturday, February 9th from 11 AM – 2 PM, we will enjoy a creative camp craft, valentine treats, and tours with the owners and special leadership team of Ivy League!
---