Click below for more information!
---
2020 IS RIGHT AROUND THE CORNER!
We are closer to our 50th summer at Ivy League, but first lets celebrate the NEW YEAR together!
Join us on January 11th, 2020 from 11 AM – 1 PM!
Come meet your favorite frozen characters, enjoy your favorite camp activities, and eat delicious winter wonderland treats!
We will have special surprises and activities that you definitely don't want to miss!
Our kick off to the New Year Party will be a little taste of the BIG LEAGUE FUN in store for our 50th summer spectacular!!
CALL 732-446-7035 TO RSVP!
---
OUR 50TH ANNIVERSARY WILL BE FILLED WITH EVEN MORE AWESOME IVY LEAGUE ACTION & BIG LEAGUE FUN!
CLICK HERE FOR SUMMER 2020 PROGRAM INFORMATION!
---
We are available every weekday and weekend to give you a tour of our beautiful 13 acre camp grounds. Meet the owners who are involved in all camp activities and on the grounds all year round. Take a look at all the Ivy League Action and Big League Fun we have at Ivy League Day Camp all summer long!
Call for a personal tour at 732-446-7035!
---
Click here to view our Summer 2018 Yearbook Video!
---
Check out the Brochure for pricing and additional services!
---
Download our 2019-20 Ivy League Before-After School Packet
Email us to sign up for 2019-2020 at info@ivyleaguedaycamp.com
---
Download our Referral Form for 2019!
---
IVY LEAGUE DAY CAMP'S FALL FEST OPEN HOUSE
WHERE: 140 GORDON'S CORNER ROAD, MANALAPAN, NJ 07726
WHEN: SUNDAY OCTOBER 27TH 11 AM – 2 PM
WHO: BRING ALL OF YOUR FAMILY AND FRIENDS
WE WILL BE HAVING PUMPKIN PICKING, PUMPKIN DECORATING, TRICK OR TREATING, HAY RIDE, ROCKWALL, EUROBUNGY, HOT LUNCH, FALL REFRESHMENTS, AND MORE!
SIGN UP AT OPEN HOUSE AND RECEIVE $100 OFF CAMP TUITION FOR THE SUMMER OF 2020!
CLICK HERE FOR MORE INFORMATION!
---
WE ARE READY FOR LOADS OF BIG LEAGUE FUN!
CHECK OUT THE CALENDARS TO SEE ON CAMPUS HAPPENINGS, TRIPS FOR TEENS, AND YUMMY LUNCH SPECIALS!
2019 ON CAMPUS HAPPENINGS CALENDAR
---
Ivy League is proud to host Mini Camp!
Monday June 10th – Friday June 28th
**Sign up for 1, 2, or 3 weeks**
Click Here for More Information!!!
---
We are so excited to welcome all of our first time camp parents to Ivy League! We are having a first time camp parent orientation on Thursday, May 30th at 7 pm!
The entire Ivy League leadership team will be here to answer all of your questions before the beginning of a BIG LEAGUE FUN filled summer!
---
Our 2019 L.I.T Pizza Social for enrolled 9th and 10th graders will be on Thursday, May 30th at 6 pm!
---
Classes are held on Sundays 9 AM – 9:45 AM on the following dates:
April 28th, May 5th, May 12th, May 19th, June 2nd, June 9th
This program is for children ages 2 1/2 – 4 years old.
All classes are held at Ivy League Day Camp Tee Ball and Soccer Outdoor Fields or Indoor Field House.
$95 per player (**$5 Ivy League Day Camp/School Discount**)
**Each child will receive a completion certificate**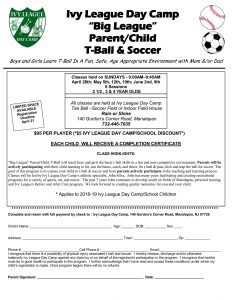 ---